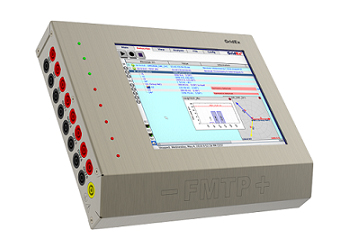 GridEx® IEC 61850 Test Tool
GridEx built-in intelligence based on 30 years combined field experience in Protection Control with IEC 61850
Increase flexibility and improve connection capacity
Make IEC 61850 accessible and manageable also to nonn-specialist.
Reduce the risk for blackouts with a secured power network.
Safe connection to "live" stations, increasing availability and output.
Faster troubleshooting reducing maintenance by up to 70%.
Accurate and synchronized timing, status against station setup file in a few minutes.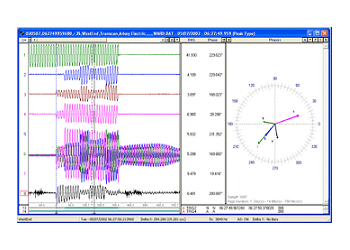 Wavewin
Wavewin is used for fast line restoration, post-fault and disturbance analysis, dynamic relay testing, real time monitoring of evolving loads, contingency planning, and intelligent maintenance applications.
Thanks to the powerful math on the recorded voltage and current signals, Wavewin is able to calculate the fault location and the fault resistance, giving valuable information to the relay engineer on how to optimize the relay settings with the experience gained by the transient recording of the power system faults.
The software is a specialized, high-resolution graphic interface designed for universal management, display and analysis of digital fault records. Wavewin supports IEC 60255-24 / IEEE Std. C37.111 COMTRADE format (known also as COMTRADE 2013) and any previous COMTRADE format (1991 and 1999). It can of course open any format and save/convert in any format. Standard CSV format is also supported (which also allows for trending of periodic load measurements over long periods of time). Wavewin supports additionally a long and growing list of proprietary disturbance recorder file formats.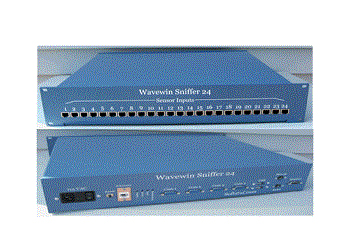 Wavewin Sniffer
Wavewin sniffer is a transient disturbance recorder device that can be equipped with up to 8 sensors (current, voltage, temperature or humidity) sampled at 2340 Hz per channel.The data is continuously transmitted to a host computer over an Ethernet connection.The recording can be triggered manually or through threshold settings for the analog channels. The current sensor is a small, non-intrusive, clamp-on sensor based on Hall Effect to sense current flow through electric wires. It can detect AC and DC currents.
The sensor has a curved mu-metal strip used for shielding against external magnetic fields and for amplifying internal fields. The sensor has a clothespin like enclosure and is capable of sensing microsecond transients (AC and DC) with a 2% accuracy range. The sensor uses a single RJ45 cable with 4 pins dedicated for both power and output signals.
Wavewin Device Manager - Station Monitor Data Collection
The Device Manager is an advanced version of the Universal Viewer. It includes an extensive library of drivers for polling IEDs and retrieving their latest fault and disturbance records. It provides a database for configuring communication, storage, and reporting parameters. It complies with NERC PRC and CIP requirements.
Each copy can poll up to 2,000 devices simultaneously. Both "report by exception" and "poll upon demand" functionality are supported and reports on communications integrity are also provided. The product is used for logging access and changing passwords on numerical relays and is equipped with an HMI used to populate single line diagrams with periodic readings including volts, amps, watts, VARs and status information. The Station Monitor is an advanced graphical interface that allows for users on the company's network to monitor all information polled from the devices configured in the device manager.
Each station polled is displayed as a one-line diagram. The one-line diagram shows all device load information, circuit imbalances, circuit overloads, breaker status and more. It also allows for searching for station/device transient files, load data, event summaries and event histories.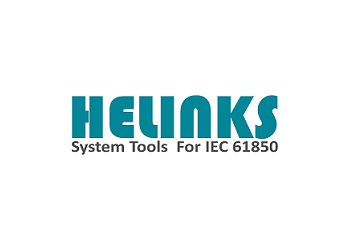 Helinks
HELINKS STS is a tool set for IEC61850 based Substation Automation System Engineering (SAS Engineering). It is designed to support a device independent top down engineering process according to part 4 and part 6 of the IEC 61850 Standard.
The tool set comprises a system specification tool and a system configuration tool and a various utilities for SCL Handling. Advanced graphical editors (Single Line Editor, Function Diagram Editor, and System Diagram Editor) serve to build the SCL files for an SAS project.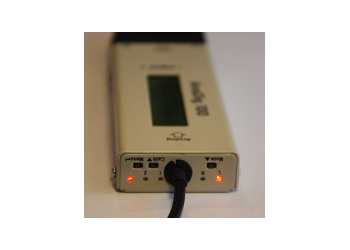 AnaDig100
For Analog Linear and Rotary Transducers >>> Digital RS422
Use Analog sensors and kits on new Digital test equipment.
Use your actual Analog sensors, no need to invest in new sensors.
Plug and Play.
Digital output with industry standard RS422.
Compatible with Main test equipment's brands.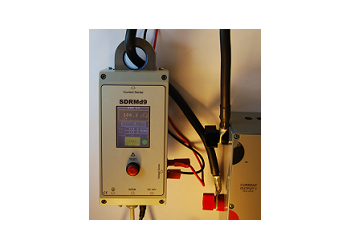 SRM-D
Very high and unequaled precision, down to 0,1µΩ +/-0,05µΩ.
Use your current source and enhance your measurements.
Cost effective solution.
Plug and Play.
User calibration kit available.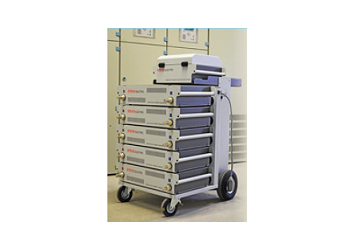 Balto DC Series
The new genuine BALTO system, ranging from 3.000A up to 15.000A – in master/slave up to 30.000A – has been developed to generate very high DC test currents in order to realize functional tests on high speed DC circuit breakers. Those very high currents are injected on the main circuit of the circuit breakers.
Moreover the whole circuitry can be checked, i.e. the current converters, the carrying bars and conductors, the connection points and the protection relays.STEVO Electric's solution is the result of its field experience, acquired thru the close collaboration with the high speed DC circuit breakers' manufacturers and the railroad companies. However the BALTO system can be used for any very high current demanding application.